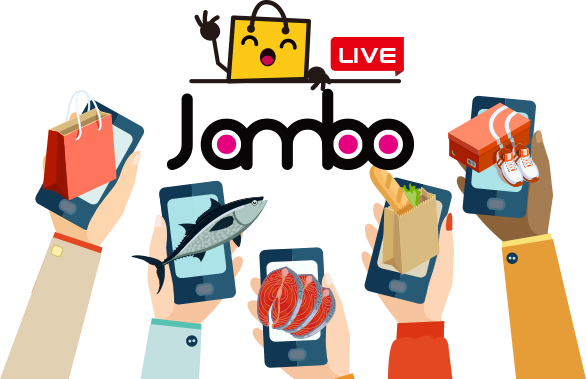 JamboLive Total Solutions,
Giving You a Better
Live-commerce Experience!
The simple and intuitive operating system, from selling until buyer receive the package, helping sellers to save time, labors, shorten the delivery time, reduces returned goods and exchange rate,
no matter how many orders you got or how many goods you have, you don't need to be afraid because JamboLive got this!
You Live sales will be simple and convenient since the begin of the operation, increase your store performance!
Starter

Smaller Businesses

A set of feature help manage Live and Orders. And increase customer retention for business growth.

Key Features:

◎

Basic E-Mall

◎

Lucky Draw

◎

Loyalty Points

◎

VIP Level

◎

Customer Management

Plus:

◎

No Order Limit

◎

Discounts On Purchases Of Multiple Items

◎

Customer Purchase History

◎

Set A Special Discount

◎

Checkout Page

Close

Live and Automatic order creation
(Choose 1 out of 5)
FB (Live, Post Selling, FB Messenger)
Facebook Group
IG (Live)
Bidding
Line Group
E-Mall(Basic)
Stock Management
No products limit
Import/Export stock with Excel
Importing / Exporting Products
Main products, product styles ,sub styles
Cost and profit
Pre-Order
Combination a set of products
Inventory Control for Live Streaming
Automatic Product Distribution
Multi-Channel Live And Inventory Sharing
Cross-channel inventory sync
Dropship
Update stock at checkout
Determine the expiration of the order
Order Management
Automatic confirmation and payment summary with Link
Automatically calculate discounts
Customers can edit or delete orders.
Able to export orders
Split bills or Combine bills.
COD Order
Slip Verification
1 Baht / Slip
Receive payment by QR Code
Automatic packing slip printing
Lucky Draw
Tax invoice
Create orders from the platform
Shipping management
Shipping fee according to quantity, weight.
Self-Shipping
Logistic API
Automatic tracking number update
Customer and promotion management
Set exclusive discounts for each customer
Loyalty points
Blacklist management
VIP Level
Purchase history of customers
Marketing campaign management
Voucher
Coupon code
Premium Product
Adjust Loyalty points
Sales reports and statistics
Sales Report
Order Report
Shipping Report
Analyzing tool
Tag Cloud
Support
Customer Support
Branded domain configuration
Permission Management

Starter

Smaller Businesses

A set of feature help manage Live and Orders. And increase customer retention for business growth.

Key Features:

◎

Basic E-Mall

◎

Lucky Draw

◎

Loyalty Points

◎

VIP Level

◎

Customer Management

Plus:

◎

No Order Limit

◎

Discounts On Purchases Of Multiple Items

◎

Customer Purchase History

◎

Set A Special Discount

◎

Checkout Page

Close

Live and Automatic order creation
(Choose 1 out of 5)
FB (Live, Post Selling, FB Messenger)
Facebook Group
IG (Live)
Bidding
Line Group
E-Mall(Basic)
Stock Management
No products limit
Import/Export stock with Excel
Importing / Exporting Products
Main products, product styles ,sub styles
Cost and profit
Pre-Order
Combination a set of products
Inventory Control for Live Streaming
Automatic Product Distribution
Multi-Channel Live And Inventory Sharing
Cross-channel inventory sync
Dropship
Update stock at checkout
Determine the expiration of the order
Order Management
Automatic confirmation and payment summary with Link
Automatically calculate discounts
Customers can edit or delete orders.
Able to export orders
Split bills or Combine bills.
COD Order
Slip Verification
1 Baht / Slip
Receive payment by QR Code
Automatic packing slip printing
Lucky Draw
Tax invoice
Create orders from the platform
Shipping management
Shipping fee according to quantity, weight.
Self-Shipping
Logistic API
Automatic tracking number update
Customer and promotion management
Set exclusive discounts for each customer
Loyalty points
Blacklist management
VIP Level
Purchase history of customers
Marketing campaign management
Voucher
Coupon code
Premium Product
Adjust Loyalty points
Sales reports and statistics
Sales Report
Order Report
Shipping Report
Analyzing tool
Tag Cloud
Support
Customer Support
Branded domain configuration
Permission Management

Standard

E-commerce Business

Essential features that help businesses acquire new customers and customer retention through Multiple sales channel solutions

Key Features:

◎

Multiple Sales Channel

◎

Multi-Channel Live And Inventory Sharing

◎

Advance E-mall

◎

Analyzing Tool (GA, FB Pixel, Line Tag)

◎

Marketing Campaign Management

◎

Permission Management

Open

Live and Automatic order creation

FB (Live, Post Selling, FB Messenger)
Facebook Group
IG (Live)
Bidding
Line Group
E-Mall(Advance)
Stock Management
No products limit
Create product link order
Import/Export stock with Excel
Main products, product styles ,sub styles
Cost and profit
Pre-Order
Combination a set of products
Inventory Control for Live Streaming
Automatic Product Distribution
Multi-Channel Live And Inventory Sharing
Cross-channel inventory sync
Dropship
Update stock at checkout
Determine the expiration of the order
Order Management
Automatic confirmation and payment summary with Link
Automatically calculate discounts
Customers can edit or delete orders.
Able to export orders
Split bills or Combine bills.
COD Order
Slip Verification
0.7 Baht / Slip
Receive payment by QR Code
Automatic box cover printing
Lucky Draw
Tax invoice
Create orders from the platform
Shipping management
Shipping fee according to quantity, weight.
Self-Shipping
Logistic API
Automatic tracking number update
Customer and promotion management
Set exclusive discounts for each customer
Loyalty points
Blacklist management
VIP level
Purchase history of customers
Marketing campaign management
Voucher
Coupon code
Premium Product
Adjust Loyalty points
Sales reports and statistics
Sales Report
Order Report
Shipping Report
Analyzing tool
Tag Cloud
Support
Customer Support
Branded domain configuration
Permission Management

Standard

E-commerce Business

Essential features that help businesses acquire new customers and customer retention through multiple-sales channel solutions

Key Features:

◎

Multiple Sales Channel

◎

Multi-Channel Live And Inventory Sharing

◎

Advance E-mall

◎

Analyzing Tool (GA, FB Pixel, Line Tag)

◎

Marketing Campaign Management

◎

Permission Management

Open

Live and Automatic order creation

FB (Live, Post Selling, FB Messenger)
Facebook Group
IG (Live)
Bidding
Line Group
E-Mall(Advance)
Stock Management
No products limit
Create product link order
Import/Export stock with Excel
Main products, product styles ,sub styles
Cost and profit
Pre-Order
Combination a set of products
Inventory Control for Live Streaming
Automatic Product Distribution
Multi-Channel Live And Inventory Sharing
Cross-channel inventory sync
Dropship
Update stock at checkout
Determine the expiration of the order
Order Management
Automatic confirmation and payment summary with Link
Automatically calculate discounts
Customers can edit or delete orders.
Able to export orders
Split bills or Combine bills.
COD Order
Slip Verification
0.7 Baht / Slip
Receive payment by QR Code
Automatic box cover printing
Lucky Draw
Tax invoice
Create orders from the platform
Shipping management
Shipping fee according to quantity, weight.
Self-Shipping
Logistic API
Automatic tracking number update
Customer and promotion management
Set exclusive discounts for each customer
Loyalty points
Blacklist management
VIP level
Purchase history of customers
Marketing campaign management
Voucher
Coupon code
Premium Product
Adjust Loyalty points
Sales reports and statistics
Sales Report
Order Report
Shipping Report
Analyzing tool
Tag Cloud
Support
Customer Support
Branded domain configuration
Permission Management

Professional

SME Businesses

Professional multi-channel inventory features that Live merchant needs

Key Features:

◎

Inventory Control for Live Streaming

◎

Automatic Product Distribution

◎

Tag Cloud

Open

Live and Automatic order creation

FB (Live, Post Selling, FB Messenger)
Facebook Group
IG (Live)
Bidding
Line Group
E-Mall(Advance)
Stock Management
No products limit
Create product link order
Import/Export stock with Excel
Main products, product styles ,sub styles
Cost and profit
Pre-Order
Combination a set of products
Inventory Control for Live Streaming
Automatic Product Distribution
Multi-Channel Live And Inventory Sharing
Cross-channel inventory sync
Dropship
Update stock at checkout
Determine the expiration of the order
Order Management
Automatic confirmation and payment summary with Link
Automatically calculate discounts
Customers can edit or delete orders.
Able to export orders
Split bills or Combine bills.
COD Order
Slip Verification
0.6 Baht / Slip
Receive payment by QR Code
Automatic box cover printing
Lucky Draw
Tax invoice
Create orders from the platform
Shipping management
Shipping fee according to quantity, weight.
Self-Shipping
Logistic API
Automatic tracking number update
Customer and promotion management
Set exclusive discounts for each customer
Loyalty points
Blacklist management
VIP Level
Purchase history of customers
Marketing campaign management
Voucher
Coupon code
Premium Product
Adjust Loyalty points
Sales reports and statistics
Sales Report
Order Report
Shipping Report
Analyzing tool
Tag Cloud
Support
Customer Support
Branded domain configuration
Permission Management

Professional

SME Businesses

Professional multi-channel inventory features that Live merchant needs

Key Features:

◎

Inventory Control for Live Streaming

◎

Automatic Product Distribution

◎

Tag Cloud

Open

Live and Automatic order creation

FB (Live, Post Selling, FB Messenger)
Facebook Group
IG (Live)
Bidding
Line Group
E-Mall(Advance)
Stock Management
No products limit
Create product link order
Import/Export stock with Excel
Main products, product styles ,sub styles
Cost and profit
Pre-Order
Combination a set of products
Inventory Control for Live Streaming
Automatic Product Distribution
Multi-Channel Live And Inventory Sharing
Cross-channel inventory sync
Dropship
Update stock at checkout
Determine the expiration of the order
Order Management
Automatic confirmation and payment summary with Link
Automatically calculate discounts
Customers can edit or delete orders.
Able to export orders
Split bills or Combine bills.
COD Order
Slip Verification
0.6 Baht / Slip
Receive payment by QR Code
Automatic box cover printing
Lucky Draw
Tax invoice
Create orders from the platform
Shipping management
Shipping fee according to quantity, weight.
Self-Shipping
Logistic API
Automatic tracking number update
Customer and promotion management
Set exclusive discounts for each customer
Loyalty points
Blacklist management
VIP Level
Purchase history of customers
Marketing campaign management
Voucher
Coupon code
Premium Product
Adjust Loyalty points
Sales reports and statistics
Sales Report
Order Report
Shipping Report
Analyzing tool
Tag Cloud
Support
Customer Support
Branded domain configuration
Permission Management

Enterprise

Brands and Enterprise

Everything enterprise-level team needs to increase productivity

Key Features:

◎

Combination A Set Of Products

◎

Branded Domain Configuration

◎

Dropship

◎

Update Stock At Checkout

Open

Live and Automatic order creation

FB (Live, Post Selling, FB Messenger)
Facebook Group
IG (Live)
Bidding
Line Group
E-Mall(Advance)
Stock Management
No products limit
Create product link order
Import/Export stock with Excel
Main products, product styles ,sub styles
Cost and profit
Pre-Order
Combination a set of products
Inventory Control for Live Streaming
Automatic Product Distribution
Multi-Channel Live And Inventory Sharing
Cross-channel inventory sync
Dropship
Update stock at checkout
Determine the expiration of the order
Order Management
Automatic confirmation and payment summary with Link
Automatically calculate discounts
Customers can edit or delete orders.
Able to export orders
Split bills or Combine bills.
COD Order
Slip Verification0.5 baht/slip
Receive payment by QR Code
Automatic box cover printing
Lucky Draw
Tax invoice
Create orders from the platform
Shipping management
Shipping fee according to quantity, weight.
Self-Shipping
Logistic API
Automatic tracking number update
Customer and promotion management
Set exclusive discounts for each customer
Loyalty points
Blacklist management
VIP Level
Purchase history of customers
Marketing campaign management
Voucher
Coupon code
Premium Product
Adjust Loyalty points
Sales reports and statistics
Sales Report
Order Report
Shipping Report
Analyzing tool
Tag Cloud
Support
Customer Support
Branded domain configuration
Permission Management

Enterprise

Brands and Enterprise

Everything enterprise-level team needs to increase productivity

Key Features:

◎

Combination A Set Of Products

◎

Branded Domain Configuration

◎

Dropship

◎

Update Stock At Checkout

Open

Live and Automatic order creation

FB (Live, Post Selling, FB Messenger)
Facebook Group
IG (Live)
Bidding
Line Group
E-Mall(Advance)
Stock Management
No products limit
Create product link order
Import/Export stock with Excel
Main products, product styles ,sub styles
Cost and profit
Pre-Order
Combination a set of products
Inventory Control for Live Streaming
Automatic Product Distribution
Multi-Channel Live And Inventory Sharing
Cross-channel inventory sync
Dropship
Update stock at checkout
Determine the expiration of the order
Order Management
Automatic confirmation and payment summary with Link
Automatically calculate discounts
Customers can edit or delete orders.
Able to export orders
Split bills or Combine bills.
COD Order
Slip Verification0.5 baht/slip
Receive payment by QR Code
Automatic box cover printing
Lucky Draw
Tax invoice
Create orders from the platform
Shipping management
Shipping fee according to quantity, weight.
Self-Shipping
Logistic API
Automatic tracking number update
Customer and promotion management
Set exclusive discounts for each customer
Loyalty points
Blacklist management
VIP Level
Purchase history of customers
Marketing campaign management
Voucher
Coupon code
Premium Product
Adjust Loyalty points
Sales reports and statistics
Sales Report
Order Report
Shipping Report
Analyzing tool
Tag Cloud
Support
Customer Support
Branded domain configuration
Permission Management