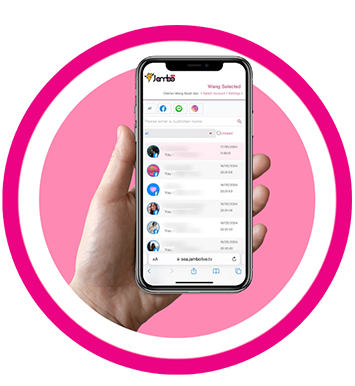 Whole new experience and feelings of Live-Commerce!
JamboLive gives an experience Live-Commerce through computer, ipad, tablet, smartphone in every operating system, no matter which device you are using, it works all the same! "convenient, fast, user-friendly" are our motto, helping you to reduce time for learning about JamboLive system and starting your live sell faster!
Let's start your own business!

If you want to start your own business, but the rent and decoration are way too expensive! You can easily start to sell on the live by using JamboLive Application, only this will help you to create your wonderful business with low cost!

Live Seller's Solution

Interesting live sell attracts customers to watch and buy, flexible and various adding order methods allow seller to capture more orders, sellers can express their creativity during live sell, don't need to be worried about other thing, because JamboLive shipping model helps seller to pack the products and ship to customers easily and accurately, so that customers will receive the package faster and re-purchase again faster!

The Effective Orders Captured and Management

Allowing you to optimize your Live-Commerce efficiency, reduce time, cost of labor, mistakes!